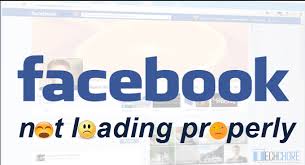 Why is Facebook not loading properly
Facebook is a great application for connecting billions of users on a single platform. Although it is widely used for its features, there are times when some issues are encountered while using Facebook. A lot of users have reported the issue of Facebook not loading properly. For this, you need to check the cause of the issue, whether it is with the device or application. To get details about the fixes, you can refer to this article.
Fixes for Facebook not loading issue
To get rid of this Facebook issue, you can try some basic fixes. With this, your Facebook will work properly on your device. The list of fixes to resolve the issue of Facebook not loading is as follows:
Clear browser cache- The browser saves a lot of files as cache and cookies, which need to be cleared frequently. If a lot of caches are stored in your browser, it might affect the working of websites. So, you must clear the cache, cookies, and browser history regularly for the proper working of Facebook.
Fix the date and time of the device- Sometimes, the Facebook loading issue comes when the date and time of the device are not correct. So, you need to fix it and get the proper time for the smooth functioning of Facebook.
Try the latest version of the browser- Your browser might be outdated, causing the issue. So, you need to update your browser to the latest version.
Use another browser- In some cases, the browser is faulty. So, you can switch your browser, to use the Facebook account properly.
Close and relaunch the app- If your Facebook app is not loading on your device, you can simply close and relaunch the application. It might start working properly
Reinstall Facebook app- If you are using the Facebook app and it is not loading the pages. You can uninstall from your device and reinstall it after some time, it might fix your issue.
Update the version of OS- It might be possible that the device you are using, has an outdated version of the operating system. So, you must update the operating system for the proper working of Facebook.
If the issue of Facebook not loading properly persists, you can contact the support team of Facebook. The technical executives will assist you with the Facebook related issues and help you in fixing the same. To reach them, you can use the details available on Facebook's official web page.